Wakanda Forever! Now you and the family can return to the action-packed Marvel Cinematic Universe Black Panther on your own screen. The film is available on Digital and Movies Anywhere TODAY, May 8th! The film includes Extensive Bonus Features that allow you to explore deeper into the wondrous world of Wakanda.
I thoroughly enjoyed Black Panther, and can't wait to see it again, but I was hesitant to show to my 13-year old daughter. Click here for my thoughts: "Spoiler-Free Movie Review – Black Panther (PG-13): A Culturally Dynamic Superhero Experience"
While you wait for your personal copy, enjoy these downloadable Black Panther bingo cards.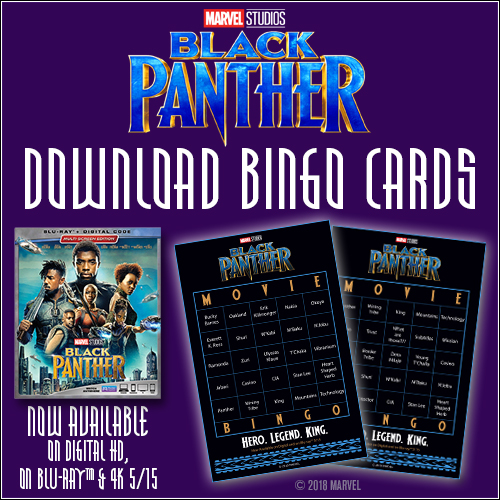 What is Black Panther?
"Black Panther" is the highly celebrated story of T'Challa (Chadwick Boseman), a young African prince who takes on the mantle of King and Super Hero. The movie has thrilled and inspired generations of moviegoers around the globe. The cultural phenomenon dominated the box office charts emerging as the third biggest movie of all time domestically with over $665 million. This is the first film in eight years to spend five weeks at No. 1 – and rising to the global top 10 of all time with over $1.3 billion.
In the acclaimed film, T'Challa returns home following the death of his father, the King. T'Challa is to succeed to the throne and take his rightful place over the hidden high-tech African nation of Wakanda.  But when a man named Killmonger (Michael B. Jordan) appears, T'Challa's mettle as king (and Black Panther) is tested. T'Challa is drawn into a formidable conflict that puts the fate of Wakanda and the entire world at risk. Pitted against his own family, the king must rally his allies and release the full power of Black Panther to defeat his foes and embrace his future as an Avenger.
BONUS MATERIAL (may vary by retailer):
Blu-ray:
Director's Intro
From Page to Screen: A Roundtable Discussion – Delve into the film's making
Crowning of a New King – Explore the world of "Black Panther" in all its color and complexity
The Warriors Within – Get to know Wakanda's women and the actors who portray them
The Hidden Kingdom Revealed – Wakanda's diverse people
Wakanda Revealed: Exploring the Technology
Deleted Scenes
U.N. Meet and Greet
Okoye And W'Kabi Discuss the Future of Wakanda
T'Challa Remembers His Father
Voices from the Past
Gag Reel
Exclusive Sneak Peek at "Ant-Man and The Wasp"
Marvel Studios the First Ten Years: Connecting the Universe
Director's Commentary
Digital Exclusives:
o   In World Wakanda Tourism Ads
Come to Wakanda "Before"
Come to Wakanda "After"
Black Panther is packaged several ways to ensure fans get the most out of their in-home viewing experience. The Multiscreen Edition (formerly the Blu-ray Combo Pack) includes Blu-ray, and a Digital Copy, giving viewers the flexibility to watch the film on different devices. Those with 4K Ultra HD capability may opt for a 4K UHD Collector's Edition, including 4K Ultra HD disc with Dolby Vision and Dolby Atmos, Blu-ray disc, and a digital copy (where available). Dolby Vision delivers greater brightness and contrast, as well as a fuller palette of rich colors. Dolby Atmos places and moves audio anywhere in the room, including overhead. Together on 4K Ultra HD Blu-ray disc, viewers will fully experience the sights and sounds of Wakanda.
DISC SPECIFICATIONS (applies to film content only):
Feature Run Time:                  Approximately 134 minutes
Rating:                                      PG-13
Aspect Ratio:                           2.39
Languages/Subtitles:             English SDH, French & Spanish
Captions:                                 English
"BLACK PANTHER" CAST & CREW:
"Black Panther" stars Chadwick Boseman ("Captain America: Civil War,"  "Get on Up"), Michael B. Jordan ("Creed," "Fruitvale Station"), Academy Award® winner Lupita Nyong'o ("Star Wars: The Force Awakens," "12 Years a Slave"), Danai Gurira ("The Walking Dead," "All Eyez on Me"), Martin Freeman ("The Hobbit" trilogy, "Sherlock"), Daniel Kaluuya ("Get Out," "Sicario"), Letitia Wright ("Urban Hymn," "Glasgow Girls"), Winston Duke ("Person of Interest, "Modern Family"), with Academy Award® nominee Angela Bassett ("American Horror Story," "London Has Fallen"), with  Academy Award® winner Forest Whitaker ("Rogue One: A Star Wars Story," Lee Daniels' "The Butler") and Andy Serkis ("Avengers: Age of Ultron," "Star Wars: The Force Awakens").
ABOUT MARVEL ENTERTAINMENT:
Marvel Entertainment, LLC, a wholly owned subsidiary of The Walt Disney Company, is one of the world's most prominent character-based entertainment companies, built on a proven library of more than 8,000 characters featured in a variety of media over seventy years.  Marvel utilizes its character franchises in entertainment, licensing and publishing. For more information visit marvel.com. ©2018MARVEL
ABOUT THE WALT DISNEY STUDIOS:
For over 90 years, The Walt Disney Studios has been the foundation on which The Walt Disney Company was built. Today, the Studio brings quality movies, music and stage plays to consumers throughout the world. Feature films are released under the following banners: Disney, including Walt Disney Animation Studios and Pixar Animation Studios; Disneynature; Marvel Studios; Lucasfilm; and Touchstone Pictures. The Disney Music Group encompasses the Walt Disney Records and Hollywood Records labels, as well as Disney Music Publishing. The Disney Theatrical Group produces and licenses live events, including Disney on Broadway, Disney On Ice and Disney Live!.
ABOUT DOLBY VISION
Dolby Vision transforms your TV experience with spectacular imaging—incredible brightness, contrast, and color that bring entertainment to life before your eyes via OTT online streaming, Ultra HD Blu-ray disc, broadcast, and gaming applications.
ABOUT DOLBY ATMOS
Dolby Atmos delivers moving audio—sound that can be precisely placed and moved anywhere in three-dimensional space, including overhead. It brings entertainment alive all around the audience in a powerfully immersive and emotive experience.
# # #
For the latest pics, clips and movie news, check back here often, as well as Follow and Like Marvel Studios at: Facebook *  Twitter * Instagram * Official Website