Are you a fan of our favorite 'How to Train Your Dragon' book and movie series? Then you are probably also watching the exclusive animated series on Netflix. DreamWorks Animation brings us another season with our favorite characters: Hiccup, his Night Fury dragon 'Toothless' and the Dragon Riders. Dragons: Race to the Edge new season starts on Netflix Today – August 25th.
Not a fan yet? Check it out, and let me know what you think. You will instantly adore the story, characters, action and heart in this series adapted from a movie, which originated as a highly entertaining book series. Although the book feels more aimed at boys (with tons of gross booger, snot and gooey yuck), my middle-school daughter and I have loved the less icky How to Train Your Dragon movies (2010-2019) and Netflix Dragons: Race to the Edge episodes.
Just when another certain show leaves you wanting more Dragons… DreamWorks Animation and Netflix deliver!
What happens in this season of Race to the Edge:
After defeating Viggo and destroying the Dragon Eye, the calm does not last long as Hiccup learns that the Hunters remain a threat led by a new villain who can control Dragons! Now, Hiccup, Toothless and the Riders must battle the Hunters like never before with help from both new and old allies.
Following a slew of shocking revelations, Hiccup then learns that the true leader of the Dragon Hunters is somebody he never expected to threatens the course of the dragon-kind forever! The race is on FOR REAL, as the Riders fight to defeat the Hunters once and for all before it's too late – only on Netflix starting today, August 25!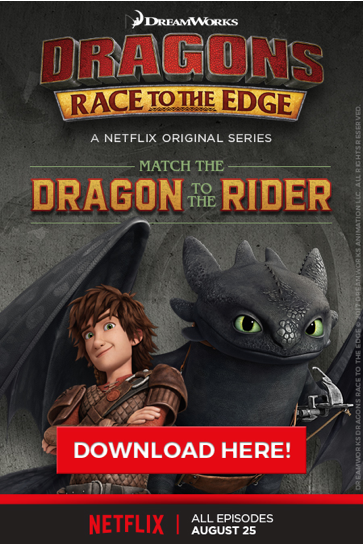 For more Hiccup and the Dragon Rider check out my clips, pics and other activities sheets here on my blog: AccordingtoStella.com – Race to the Edge search link.