Voltron friends, ready for the next intergalactic adventures with your favorite Paladins and their Lions? I know my husband will be excited to hear about this!
DreamWorks Voltron Legendary Defender Season 3 is currently available on Netflix with seven all-new episodes. Season 3 picks up in the wake of Zarkon's defeat and Shiro's disappearance. The paladins struggle to move forward with no real pilot for the black lion or anyone with the ability to form Voltron.
The team must quickly devise a plan as the ascension of Prince Lotor and his generals pulls the team into a perilous game of cat-and-mouse that tests their unity and abilities more than ever before.
*NEW* Coloring Pages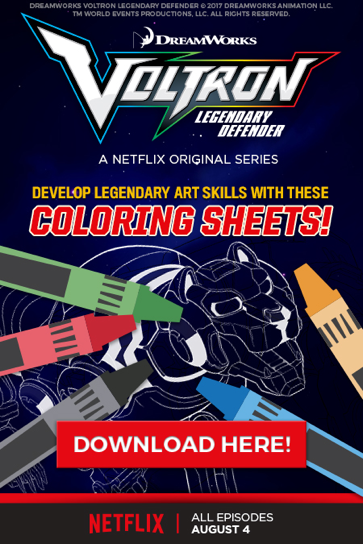 Click on these links for:
About DreamWorks Animation Television:
DreamWorks Animation Television is one of the world's leading suppliers of high-quality, animated family programming, reaching consumers on linear and on-demand platforms in more than 130 countries and garnering 31 Emmy Awards to date.  It is a division of the Universal Filmed Entertainment Group (UFEG).
 About Netflix:
Netflix is the world's leading Internet television network with over 83 million members in over 190 countries enjoying more than 125 million hours of TV shows and movies per day, including original series, documentaries and feature films. Members can watch as much as they want, anytime, anywhere, on nearly any Internet-connected screen. Members can play, pause and resume watching, all without commercials or commitments.
Check back here, with AccordingtoStella.com for the latest in Netflix/DreamWorks Animation Television. I'll let you know which family member enjoys what series, to help you make the best choices for your family.