Spring is trying to show up around here. How is the weather in your area? We plan to take a walk, go on a hike or something outdoors this weekend, if our allergies don't hit us first… Meanwhile, some of our time at home will be online or watching our shows on Netflix. DreamWorks and I wish you and your family a fun and safe Happy Easter Weekend. My hubby has been enjoying the DreamWorks/Netflix original series, VOLTRON Legendary Defender, and I know some of you and your kiddos do too! Feel free to share and download these Voltron Easter activities sheets for your Easter baskets: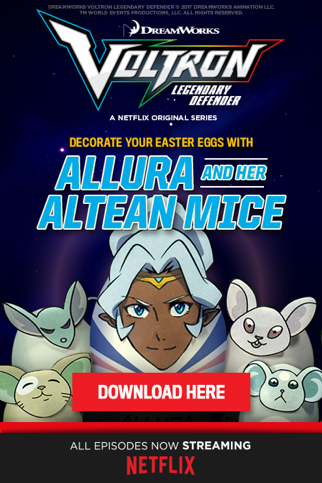 Have not watched VOLTRON: LEGENDARY DEFENDER on Netflix yet? You or your kids will enjoy this series if you like:
stories aimed at ages 5-10
robots and Japanese mecha
Or other series like:
'Transformers"
"Star Wars Clone Wars"
"He-Man and the Masters of the Universe" (1984)
"Digimon Fusion"
"Miraculous: Tales of Ladybug & Cat Noir"
"The Real Ghostbusters" (1990)
What is Voltron: Legendary Defender?
Voltron: Legendary Defender is an American animated web television series that is a reboot of two anime series ("Beast King GoLion" and "Voltron").  The animation is a fusion of American-style with Japanese anime-influenced traditional animation. The action and plot-driven story takes place in space, with characters who pilot robots to protect their universe from evil.
Comment below with any questions about the series, or just let me know what you think of it. I would love to hear if you watch it, with or without the kiddos.
For more VOLTRON information, clips and downloads, check out:
"DREAMWORKS AND NETFLIX BRINGS US VOLTRON 84 ON MARCH 24TH"  an introduction to the series that started on Netflix in March
"VOLTRON LEGENDARY DEFENDER CLIPS AND ACTIVITY SHEETS" includes Character Cards and Coloring Placemats
"DIY DREAMWORKS FUN 3D ORNAMENTS" includes a really cool downloadable VOLTRON Shield Ornament you can display anywhere, or dangle from an Easter Basket for something different